Congratulations to my friend, Liz, who found out today that a picture of one of her designs will be used to accompany an article in the March issue of Atlanta Parent magazine! Yay Liz!

I really enjoy Valentine's Day and doing fun things with Georgia to get ready for it. We have been reading different Valentine's Day books, and doing some Valentine's crafts.
A favorite book of ours:



A craft we plan to incorporate into the Valentines that Georgia takes to share with her preschool class: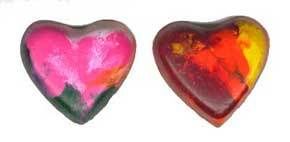 CRAFT MATERIALS:
Crayon pieces
Heart-shaped metal cookie or muffin tin (our hearts are about 1 1/2 inches across)
Scrap paper
Double-sided foam mounting tape
Scissors
Colored card stock
Marker

Time needed: About 1 to 2 Hours
1. Heat the oven to 250°.


2. Fill each mold with crayon pieces and bake until the crayons melt, about 10 to 15 minutes. Tip: Place a sheet pan under the crayons to catch any drips.


3. Once they're cool, remove the hearts from the molds and smooth any rough edges by rubbing them on a piece of scrap paper.
4. Use small pieces of foam tape to stick each heart to a 3-inch circle cut from card stock.
Suggested messages:
You color my world
Valentine, you make my heart melt
Have a happy Valentine's Day, for "crayon" out loud!